Firearms Safety & Training Basics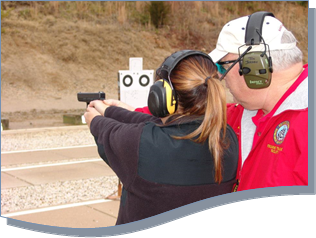 The following videos are intended to provide basic information on firearms safety and the functions and use of a variety of firearms and related information. There are many points of view on shooting techniques, so you are always encouraged to do your own research to find those that help you improve your shooting skills. You are encouraged to attend a
formal firearms training course, with a licensed firearms instructor
, usually offered by local firearms merchants. Research the
types of firearms training available
and choose the best course(s) for you.
United States Bill of Rights
Rules of Firearm Safety:
1 - ALWAYS Assume that ALL Firearms are loaded.
2 - Keep firearms pointed in a safe direction AT ALL TIMES. Never point, LOADED or UNLOADED, toward anything you are not willing to destroy.
3 - Keep your finger off the trigger until you are ready to shoot.
4 - Be sure of your target and aware of what is beyond it. Your bullet may pass through your target and hit what is beyond it.
How NOT to Shoot a Gun
(contains Adult Language)
Brandishing & Warning Shot? NOT!!!!
[Article]
Types of Firearms
Parts of a Gun
Introduction to Shooting Range Rules, Safety and Etiquette:
Follow all local/state/federal Firearms Transportation Laws while transporting firearm(s) to/from the Range. Each Range has its own set of Range Rules so be sure to read, understand and follow them. It is best to call about, or get a copy of, the Facility's Range Rules before visiting to understand what kind of firearms and ammunition are allowed or prohibited as well as other custom rules to follow. For theft-prevention reasons, you should not have to return any firearm or ammunition to your vehicle because they were prohibited in the Range. Even though your vehicle may be locked, and the items are out of sight, this creates a safety concern because they are not in your immediate possession; your vehicle could be forcibly entered to steal those items by someone who overheard a Range conversation or saw you place the items in your vehicle.
Ear & Eye Protection
Best Training Targets (human-size silhouette) [Print Your Own] [Basic Target 1 Pg] [Small Silhouette 4 Pgs] [Full Silhouette 9 Pgs]
Best Target Distance (5½ to 22 yards)
Basic Handgun Safety & Use:
Handgun Function:
Ammunition Explained:
Handgun Shooting Stance, Aiming, Sight Alignment, Sight Picture & Trigger Control:
Not Hitting Where You Aim?
Handgun Selection, Cleaning and Maintenence:
Shotguns:
Rifles:
Self-Defense Tactics:
Storing & Securing a Firearm:
Transporting a Firearm:
Concealed Carry:
Laws vary, from state to state, on carrying a concealled firearm. Their qualifications range from taking a class, submiting proof of necessity, qualifying on a target range, background check, getting a permit, and all, or combination, of the aforementioned, to just being of legal age. If you have an interest in carrying a concealled firearm, research your own state laws and requirements, or search the web for those states that will issue a CCW (Carrying a Concealed Weapon) Permit to non-residents.

As of the date of this writing (November 2017), there are over 30 states in the United States that will issue CCW permits to its general citizenship. Some of these states recognize that "anyone who can legally possess a firearm can carry it concealed WITHOUT a permit". Most of these states have Concealed Carry Permit Reciprocity with other CCW states. Laws & procedures change so do your own research on current local & federal laws & procedures before carrying a concealed firearm.

The Concealed Carry (Stealth) Lifestyle [Link 2] [Video]
It should go without saying that training and obedience to the laws of the state of residence, or state being visited, are the signs of a responsible CCW Permit holder.

Concealed Carry Mistakes, Don'ts, and Blunders and Choosing the Best Handgun for You
Tips When Stopped By Police and Carrying a Firearm
You injured or killed someone in self-defense. What happens next?
Pay it forward:
If you have benefited from someone sharing their time, knowledge, skills and resources with you to safely use a firearm, continue to improve upon your own skills and knowledge and pass them on to a newbie for the legacy to continue.
More Information: