My Favorite EDCs (EveryDay Carry)
I use these tools myself and have given them as gifts because of their convenience, size and multi-use capabilities.
NOTE:
All of these tools may have carry-on restrictions for commercial aircraft but might be permitted in checked baggage. Search the
TSA "Can I Bring"
web page for items in question.
---
Credit Card-Sized Multi-Tool
Depending on where I purchased these, the instructions may not be in English so I'm posting this here as a reference (click to enlarge) to my gift recipients just in case they can't read Chinese. See
links below for use and purchasing.
---
Survival (Paracord) Bracelet
I wear one of these whenever I am camping and hiking and consider a must-have for anyone doing outside activities. Cordage, fire, signaling, cutting, and direction-finding are essentials for any survival situation and this little package has them all conveniently strapped to my wrist.
(1) Paracord (about 9 feet of when unraveled)
(2) Flathead Screwdriver at the opposite end of the striker. Pull out the striker from the bracelet clasp.
(3) Survival Whistle as an audible signal to summon help (save your voice)
(4) Flint to create a spark
(5) Compass
(6) Flint Striker can be used as a cutting tool to used with the Flint (#4) to start a fire or a visual signal to summon help.

The Paracord is (usually) made of 7, 35-pound Tensile strength strands that can be used for light-duty, less-bulky cordage. Additionally, the 7 strands are comprised of 3 thinner strands that can be used for sewing, fishing line and other uses.

P.S.: For the best sparking action, scrape black coating from the flint then use the non-Serrated side of striker against the flint (view Video 1 below).
See
links below for use and purchasing.
---
Compressed Water-Activated Wash Cloth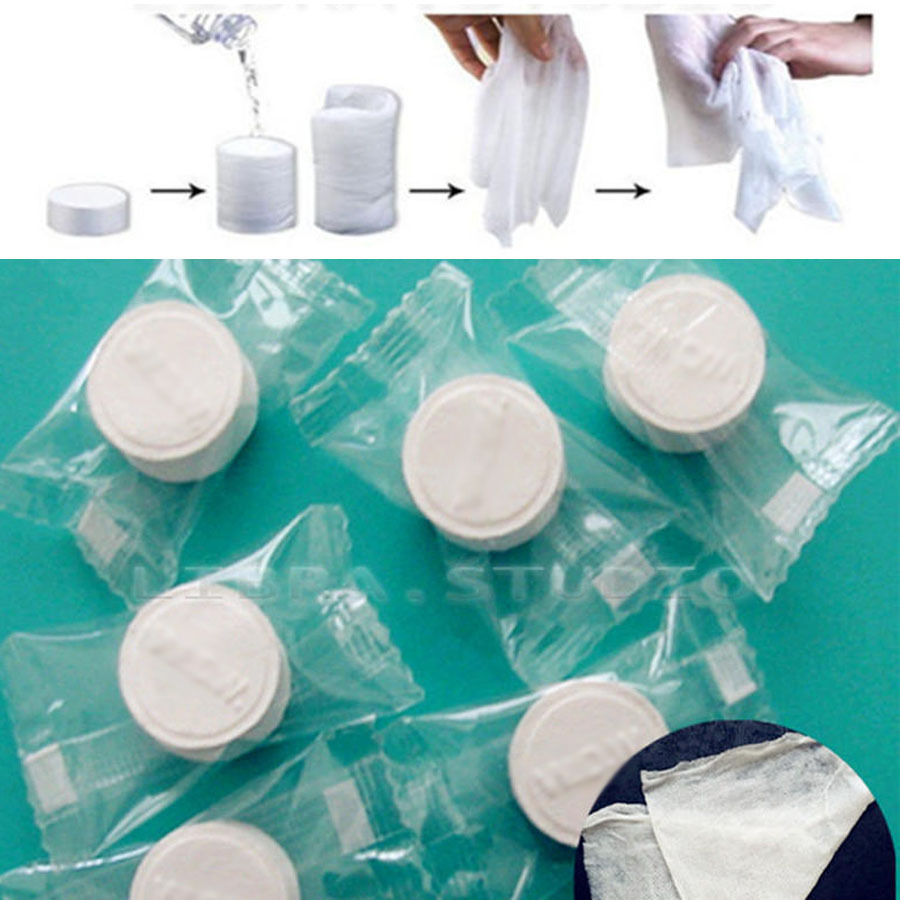 Mint-Size Tablet Expands to Wash Cloth - The perfect companion when you're travelling, camping, picnicking, fishing, hunting. Just add a small quantity of water and this Tablet expands into a very usable wash cloth. They can be found on Amazon and eBay. Full-Size Compressed Face Towels are also available.
back to top
---
Mini Multi-Tools
Mini Multi-Tools
are a great size for pocket, purse or keychain with lots of features.
back to top
Survival (Paracord) Bracelet
Links
Paracord Bracelet Video 1
Paracord Bracelet Video 2
Paracord Bracelet Video 3
Dissection of, and Many Uses for, Paracord
101 Uses for Paracord
back to top
Credit Card-Sized Multi-Tool
Links
Here are a few links on how to use it:
Link 1 (overview)
Link 2 (compass v1)
Link 3 (compass v2)
Link 4 (use to start a fire)
This tool may be magnetic and may render credit cards inactive if placed in close proximity to one another.
If you would like one or more, here are some links on Amazon.com. They are only made in Asia (sorry) so find the cheapest price, with free shipping, and don't be in a hurry to get them (takes about 2-3 weeks). Those sold in the US are getting them from Asia and jacking up the price.
back to top
---